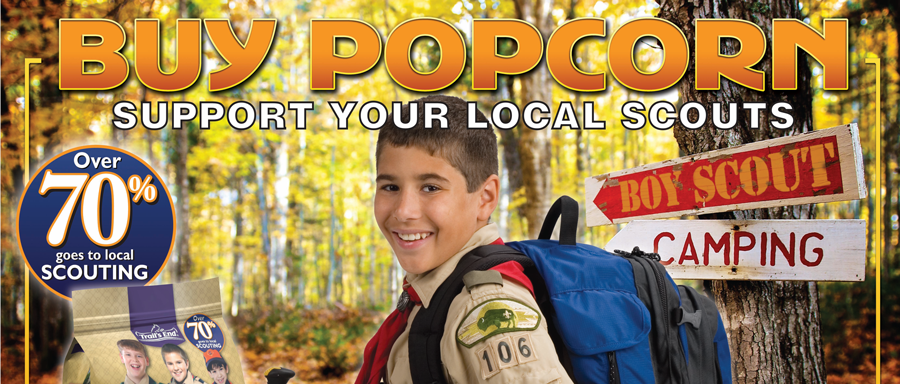 The Trails End Popcorn Fundraiser is the Boy Scouts' No. 1 fundraiser. The proceeds from the sales are used for events and scholarships for camp.
Campaign Time Line

August 26, 27 & 28, 2014

Unit Popcorn Kernel Trainings

August 26, 27 & 28 2014

Popcorn Sale Packets Distributed to Units at Training

August

District Popcorn Kick-Off Roundtables

TB – Aug 11, 2014 @ Kanakadea Park, 6 PM
WR – Aug 7, 2014 @ Cowenesque Lake,
Oneida, 6 PM
IW – Aug 12, 2014 @ Horseheads Presbyterian, 6 PM
AD – Aug 21, 2014 @ Towanda Elementary School,
6 PM

September 1, 2014

Popcorn Sale Begins

November 3, 2014

Popcorn Orders & Prize Sheets Due to Council

November 15, 2014

Popcorn Pick Up Day at District Locations

December 12, 2014

Popcorn Money Due to Council

Unit Popcorn Kernel Training Dates

Note: A Trail's End Representative will do the training at the Radisson for us!
This is a "Must Attend" training in order to get the additional 3% commission!
Your unit will receive Refreshments, Kick-Off Training / Sales Kit & Popcorn Order Forms for attending this valuable training!

Northwest Training: Tuesday - August 26, 2014 – 6:30 PM Kanakadea Park – Hornell, NY

Central Training: Wednesday - August 27, 2014 – 6:30 PM Radisson Hotel – Corning, NY

Southeast Training: Thursday - August 28, 2014 – 6:00 PM Troy Vets Club, Troy, PA

Please RSVP at least one week prior to the event of your choice at the Arnot Mall Scout Shop: 607-796-0699.

---

Unit Incentives

EARN AN ADDITIONAL 3 PERCENT OF PROFIT
A 3% increase in Unit profits will be added to the 27% = 30% total profit for Units doing all 3 mandatory criteria:
1) Attend one Unit Kernel Training,
2) Complete the Ideal Year of Scouting budget worksheet, & set individual & unit goals, plus do a Unit Popcorn Kick-Off.
3) Orders, Prizes & Money in On Time,
( Units have to do all three to get the 3%!)


ADDITIONAL INCENTIVE

An additional $200.00 Cash Bonus can also be earned if your unit sells $2,500.00 more than they did in the 2013 popcorn sale!

---

YOUTH SALES INCENTIVES

• Keller Prize Program: Trail's End Incentives Keller Marketing Prize Program, multiple choices of different prizes determined by how much is sold. $2,500 seller gets the 6% Trail's End College Scholarship! Check these links for a list of prizes: Page1, Page 2

• $600.00 Club has four Prize Drawings for filled-up order sheet(s) totaling $600.00 turned into the Scout Shop! Drawing Dates are on Fridays: Sept. 19, Oct. 3, Oct. 17 & Oct. 31 at the Scout Shop at 8 PM. Three (3) prizes will be drawn & 2 Jackals Jerseys will be drawn on Nov 14. You don't have to be present to win a prize. The Scout Shop will notify you.

• Everyone with a filled-up sheet(s) totaling $600.00 in sales gets one Zoom-Zooka Blaster on the spot at the Scout Shop, 2014 Popcorn Patch and a chance to win some more awesome prizes!

• $1,000 Club enters eligible Scouts into a prize drawing for an I-Pad, Kindle & DSL Game!

• WGI NASCAR Package for the top seller (1) in each District. 4 tickets & a Pace Car ride!

• Grand Prize goes to the top selling unit (1) in the Council. A day at Greek Peak's Water Park!

• Individual Recognition for each District's top selling Cub Scout and Boy Scout.

• One free week of summer camp (Summer 2015) for the top selling Cub Scout (Day Camp or Resident Camp) & Boy Scout (Resident Camp) in the Council!

• Free Lodge Rental for top selling unit in each District at Gorton or Brule for two nights.
Show-N-Sell
The Show-N-Sell is a popular new way to sell popcorn which can help units add immediate, convenient sales for scouting units in the Five Rivers Council this fall.
Show-n-Sell will not replace the traditional, delivery based "Take Order" sales held each fall. But rather than wait for weeks for delivery, in the Show-N-Sell, consumers can walk up to booths manned by Boy Scouts, Cub Scouts or Venturers, hand over cash and get their popcorn on the spot.
The popcorn booths can be set up in front of stores, ball games, street corners and other public venues.
Show-N-Sell details:
• Training session — 6:30 p.m., May 22 at the Arnot Mall Community Center
• Popcorn orders — Due to the Arnot Mall Scout Shop by Aug. 18
• Popcorn ready for pickup Sept. 5
• Payments due Oct. 24
• To register, call Karen Stark at the Scout Shop, 607-796-0699
Additional Resources
Online Selling Information for Scouts
Online Selling Information for Leaders
Ideal Year of Scouting/Unit Budget Worksheet