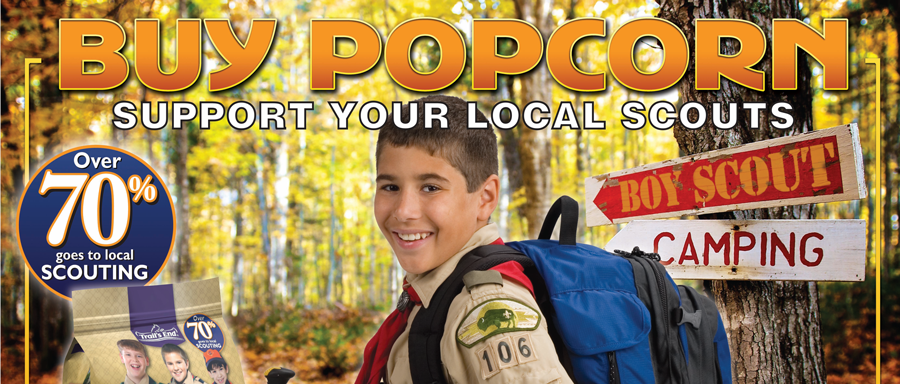 The Trails End Popcorn Fundraiser is the Boy Scouts' No. 1 fundraiser. The proceeds from the sales are used for events and scholarships for camp.
Popcorn Sale Calendar

September 1
Sale Starts

September 4
Show-N-Sell Popcorn Pickup

September 18
1st $600 Club Prize Drawing

October 2
2nd $600 Club Prize Drawing

October 16
3rd $600 Club Prize Drawing

October 23
Show-N-Sell Money Due

October 30
4th $600 Club Prize Drawing

November 2
Orders Due – Scout Shop/Online

November 13
Popcorn Pickup – WR/TB/AN

November 14
Popcorn Pickup – Indian Waters

December 11
Popcorn Money Due Council

Kickoff events

August 25 – 6:30 p.m. Palace Theater, Corning NY
August 26 – 6:30 p.m. – Kanakadea Park – Hornell, NY – Thunderbird
August 27 – 6:00 p.m. – Troy Vets Club – Troy, PA – Andaste

---

2015 Unit Commission & Prize

NEW THIS YEAR!

Unit Commission this year will increase to 30% with the prize program. This is an increase of 3% we have had 27% for the last few years and decided we needed to increase the percentage to the units. If you complete the following: turn in the Commitment Form, Ideal Year of Scouting and pay for your popcorn on time you will receive another 3% which then increases your commissions to 33%. If you sell over $2,000 more in sales this year than last year, you will receive another 2% which will make a grand total of 35% in commissions for your unit.

When you receive your invoice it will already have your commission figured in and what you owe the council. You only pay what is due to council, you will keep the rest in your treasury.

Keller Prize Program

Each Scout that sells at least one item will receive a patch or pin. You can only select one prize from either the level that you sold on or a lower level if you wish, you cannot order multiple prizes. All prizes should be entered when popcorn orders are due. Show and Sell, Take Order and Online Sales makes up the total sale for the boy and his prize is figured from that level.


Council Specific Bonus Prizes

• $600 Club – Zeon Bow or Fire Tex Rocket & chance to win Walmart Gift Cards
• Door Knocker Drawing – Fill in 15 lines and get enter for weekly drawings.
• $800 Club – Receive tickets to snow tube at Swain
• $1000 Club – Drawing for IPad, Kindle and DSL
• Watkins Glen Race Weekend – top seller in the District
• Grand Prize Greek Peak Water Park!!!!
Popcorn Selling Options
Take Order
A Scout goes door to door with a take order form with a parent or a buddy, the customer writes their order on the form, the Scout returns to deliver the product and collect payment in a few weeks. Remember always to say "thank you" to the person purchasing the popcorn.

Show-N-Sell
The unit works as a team at a location(s) to show their products and to make immediate sales after getting permission to sell in front of a business, storefront, or other location.

Online
Allows Scouts to sell online to family and friends through www.Trails-End.com. There is an online account available for each individual unit and/or for each individual Scout. Sales generated online qualifies toward Scout Rewards and scholarship credit.
PDF Documents