Venturing Outings
The Five Rivers Council offers several events throughout the year for the Venturing Program. We encourage adults and youth to a "Challenge By Choice" at every event! Learn more about what venturing is on our Venturing Crews page!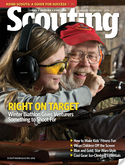 Venturing Biathlon
The Council's annual Venturing Biathlon, which takes place in January, was featured in Scouting, a nationally distributed magazine. As described in the article and accompanying photos, the Venturing Biathlon is a series of outdoor shooting and skiing events. After completing a required NRA and BSA gun safety course, participants are exposed to a variety of pistols, rifles, and shotguns where they enjoy hands-on experience in a controlled shooting range. Venturers are given a lesson on skiing and snowshoeing, and weather permitting, can use them in the competition. The Scouting Magazine article emphasizes the importance of staying fit in winter months and maintaining safety procedures as well as the dedication of local volunteer educators. While the event brought in participants from all over the Northeast region, Venturers and leaders are featured from Athens, PA and Corning, Elmira and Dundee, NY. The article can be found in the 2014 January-February issue of Scouting Magazine or read online here.
2015 Venturing Fall Event - Things That Go Bump in the Night
A fun filled weekend (9/18-20 2015) at Camp Brule spending time with other crews. At this weekend you will be able to participant in a wide variety of activities such as Shooting Sports, COPE, Haunted Hike and more. You can even take your required NRA Firearms & Range Safety Orientation on friday night. For more information or to register visit our Council calender or click here.